With Special Guest Arianna Tassinari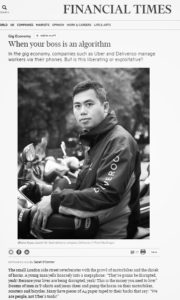 In this episode we are joined by the wonderful Arianna Tassinari to discuss a recent Financial Times article by Sarah O'Connor on gig economy, algorithmic management and labour relations!
In this article, Sarah explores the impact of gig economy and algorithmic management on the employees – what their experience is like, how their work is structured, and whether being a gig economy employee is everything it panned out to be. Gig economy, as well as its benefits and limitations, has been subject to much debate in social policy and labour relations lately. Facilitated by management via algorithms, gig economy can be seen as symptomatic of another reincarnation of scientific management (initially outlined by F.W. Taylor – see Episode 1). Some notable differences/evolutions include separation of people by means of technology, as well as uncertain conditions of employment. With this in mind, we decided to investigate and see whether algorithmic management could claim heirdom to the pioneering ideas of Taylor, or whether some other classical approaches to management have more in common with this way of structuring work?
Many uncertainties and misunderstanding about gig economy remain. On the one hand, flexible labour arrangements allow organizations to deploy the necessary resources with speed and precision, and at lower cost. On the other hand, having a pool of 'contractors' who do not interact with each other or the organization makes any kind of learning, innovation or informal coordination virtually impossible. Is gig economy only good for mass-production of standardized goods and services?
Did Taylor, as Sarah suggests, really worked towards providing consumers with cheaper products? Or was he most concerned with the employees? Is it fair to claim, as the founder of Percolata would have us believe, that algorithms remove managerial biases and make for a fairer workplace? What is the role of labour relations in the absence of interpersonal relations between the management and the employees? These are just some of the questions we tackle with our guest Arianna, an expert on industrial relations and trade unions.
So join us as we (possibly) contribute to the current debate and attempt to make clearer sense of the relevant key concepts leveraging our collective experience and knowledge!
You may also download the audio files here: Part 1 | Part 2 | Part 3
Read with us:
O'Connor, S. (2016). When your boss is an algorithm, Financial Times, September 8, 2016.
To Learn More:
Lee, M.K., Kusbit, D., Metsky, E. and Dabbish, L., (2015). Working with machines: The impact of algorithmic and data-driven management on human workers. In Proceedings of the 33rd Annual ACM Conference on Human Factors in Computing Systems, 1603-1612.